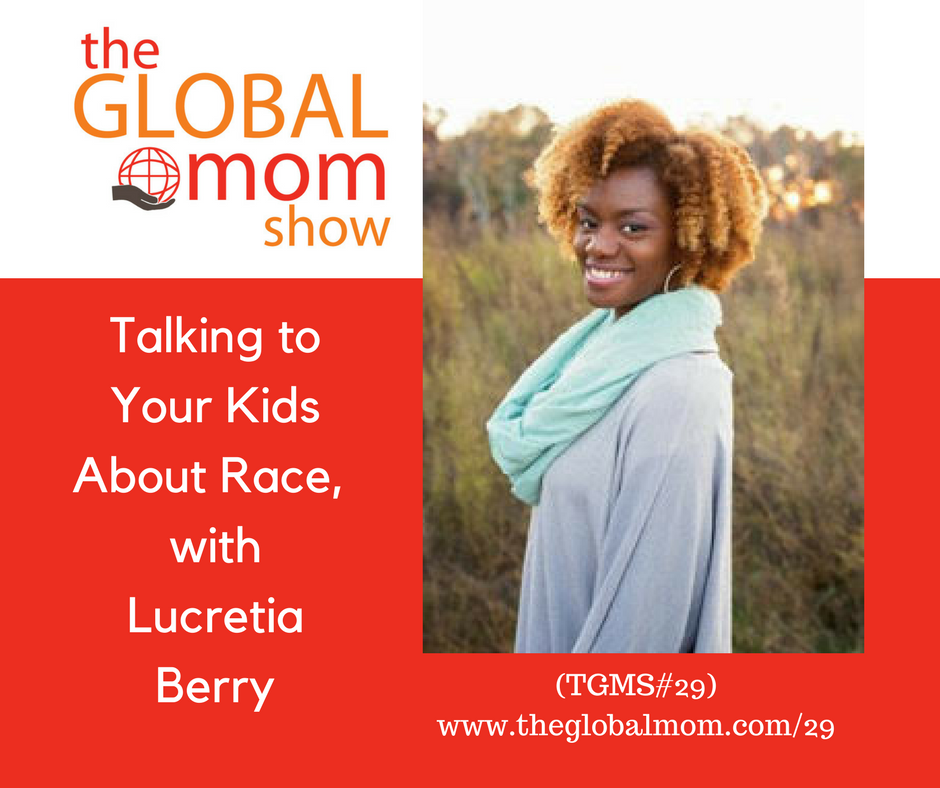 Talking to Your Kids About Race, with Lucretia Berry (TGMS#29)
If you live in the United States, you know that this past year has brought to the surface lots of racial tensions. We've seen racism on the news and in our classrooms. And many of us have had to re-evaluate how we are thinking about and talking about race and discrimination. Now, if you don't live in the US, you might be wondering why we are talking about race on The Global Mom Show. And that is because every country in the world has some sort of history with race—through slavery, colonialism, and now globalization, and immigration, all countries deal with racism or colorism in some way, so investigating it can help us better understand one another both in our own country and around the world. You've also asked for this discussion, so those are a few of the reasons that we are having it today.
Today, I'm talking with Lucretia Berry, co-creator (with her husband Nathan) of Brownicity.com, which provides resources and discussion opportunities for families wanting to learn more and talk naturally about race. Lucretia is a wife, a mom of three girls, a speaker and teacher, and she has a PHD in curriculum and instruction from Iowa State University. She is passionate about helping people overcome boundaries through spiritual and social consciousness. She is the author of  What Lies Between Us: Fostering First Steps Toward Racial Healing.  Brownicity promotes ONEness among people who have historically been divided by the lie, ideology, and legacy of race.
Lucretia and I talk about here story of understanding race, how she ended up marrying a white man when she never thought she would, and how she and her husband talk with their children about race and discrimination.
I really love Lucretia's emphasis that we are all created in God's image and that man created race. If man created race, then we can undo it. That gives me a lot of hope in the midst of some of the crises that are happening right now.
If you are interested in learning more about this topic, really delving into the vocabulary and some of the resources that can be helpful in talking about race with our children, I'd love to offer a workshop for you about this. We would have it online so anyone could attend, and it would be a great way to dive deeper and get some real instruction. One of the things we mentioned in our conversation is that people of color talk to their children a lot earlier about race and racism than white people do. I even said that sometimes ages 6 or 7 can feel too young to talk about some of the atrocities of slavery and injustice. But, especially if you are a white parent, and you have been taught the colorblind mentality, then maybe talking about race to your kids or even among your friends or relatives still feels like a taboo subject. But, it really doesn't have to be. So, if you would like to learn more, sign up here to show your interest. If we get enough interest, we will put together a workshop and let you know when it is available.
If you have questions about this episode, head over to The Global Moms Network Facebook Group to ask them this week, and I'll be there along with some other moms who can chat with you about when and how to talk to your kids about race. Lucretia may even be around to answer some of your questions as well!
Find Lucretia:
Brownicity | Facebook | Instagram
Find Mary Grace:
Facebook | Instagram | Twitter
We would love to hear from you, so please leave a comment below, or find us on social media and let us know how you are talking with your kids about race.
SPONSOR:
This episode is sponsored by Around the World Stories.
The Global Mom Show is sponsored by Around the World Stories. These audio stories capture the adventures of kids from around the world and will introduce your kids to different countries and cultures, as they travel with the characters to new parts of the world. Each story is about 25-30 minutes long, and right now the authors are traveling around Europe with their children gathering information to write more stories. They take place in Denmark, Ireland, The Czech Republic, Germany, Austria, the Netherlands, Spain. You can get a story a week for $9.95 a month, or get a membership for a year's worth of weekly stories for $99. Download the stories and take them in the car or play them at home or from your phone. This is a great and easy way to introduce your children to other cultures. Head to theglobalmom.com/stories to give them a try.
Have you joined my email list? If you do, I'll send you my guide: 10 Ways To Make Your Home More Global–No Matter Where You Live.  Just text GLOBALMOM to 444999. Or sign up here. 
Thanks for listening today, Have a great week, and remember, you can live a global life wherever you are, and teach your kids to do the same.
Yes! Send Me the Guide:
Podcast: Play in new window | Download | Embed