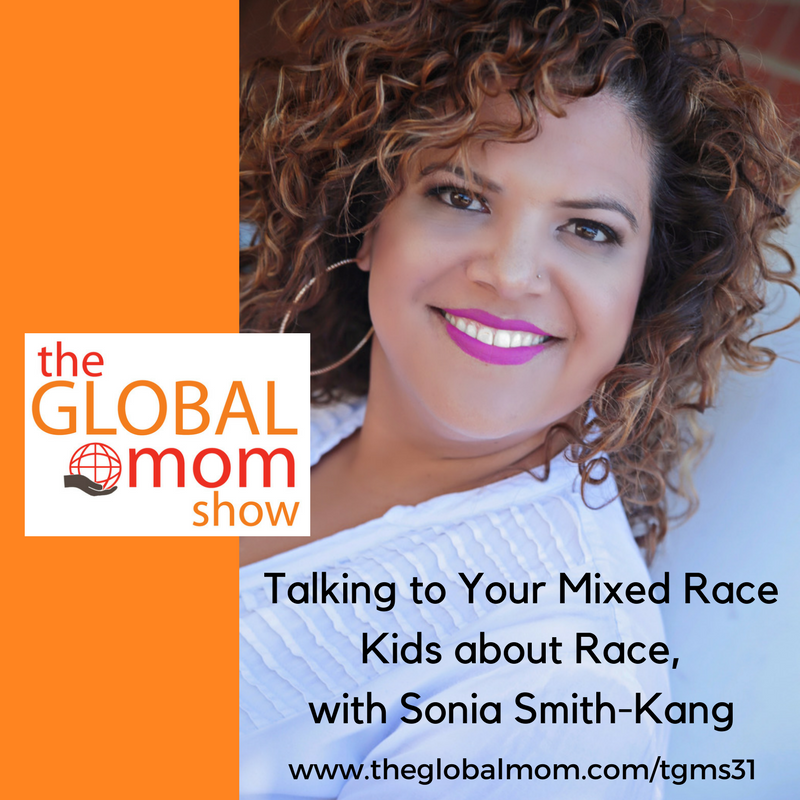 Talking to Your Mixed Race Kids About Race, with Sonia Smith-Kang (TGMS 31)
Several months ago, I came across an article by Sonia Smith-Kang on The Mash-Up Americans website titled: How to Talk to Your Mixed Race Kids About Race. Sonia's steps were straightforward and accessible, and I knew I wanted to have her on the show to talk about her background and how she's raising her own mixed-heritage children. Sonia is the creator of Mixed Up Clothing, a fantastic clothing line full of patterns and styles from all over the world. She is also a writer and blogger and a contributor for Babble, Huffington Post, and Mash Up Americans. Sonia and her designs have been showcased on NBC's Today Show, The Real, Latina Magazine, Huff Post Live, CBS Los Angeles, popular magazines Celebrity Baby Scoop and Babykins Magazine, and at cultural events across Southern California. She is the co-founder of Mixed Heritage Day at Dodger Stadium in Los Angeles, and she is married, has four children, and lives in Los Angeles, California. Sonia herself comes from a mixed heritage, and she wants all mixed race children to know that they don't have to explain themselves to anyone–they are whole, complete, 100% people who can identify with all of their heritage at once. Listen in as she shares her tips and conversation topics for talking about what can be a taboo subject.
Links from the show: 
Dr. Maria Root: Bill of Rights for Mixed Heritage
Bill of Rights for People of Mixed Heritage
I HAVE THE RIGHT…
Not to justify my existence in this world.
Not to keep the races separate within me.
Not to justify my ethnic legitimacy.
Not to be responsible for people's discomfort with my physical or ethnic ambiguity.
I HAVE THE RIGHT…
To identify myself differently than strangers expect me to identify.
To identify myself differently than how my parents identify me.
To identify myself differently than my brothers and sisters.
To identify myself differently in different situations.
I HAVE THE RIGHT…
To create a vocabulary to communicate about being multiracial or multiethnic.
To change my identity over my lifetime–and more than once.
To have loyalties and identification with more than one group of people.
To freely choose whom I befriend and love.
Quotes from the show: 
Each person of mixed heritage should be reading this and have it posted. It gives you the right to be who you are and not have to justify your existence."

To say you are colorblind is not okay anymore. What folks want you to do, is they want you to see them…it's what you do while you are seeing them that's the issue."
Find Sonia: 
Website | Facebook | Instagram | Twitter
Find Mary Grace:
Facebook | Instagram | Twitter
We would love to hear from you, so please leave a comment below, or find us on social media.
SPONSOR: The Global Mom Show is supported by fans and listeners who want to keep the conversation going. If you would like to support the show, one of the easiest ways is by doing your regular shopping on Amazon using The Global Mom Show's link. Just go to www.theglobalmom.com/amazon whenever you shop, and you won't be charged anything extra, but the show will get a tiny commission for every purchase. If you want to find out more ways to support the show, go here and you'll find a variety of simple ways you can support they show—without it costing you anything.
GET MY FREE GUIDE: 10 Ways To Make Your Home More Global–No Matter Where You Live.
Yes! Send Me the Guide:
Podcast: Play in new window | Download | Embed