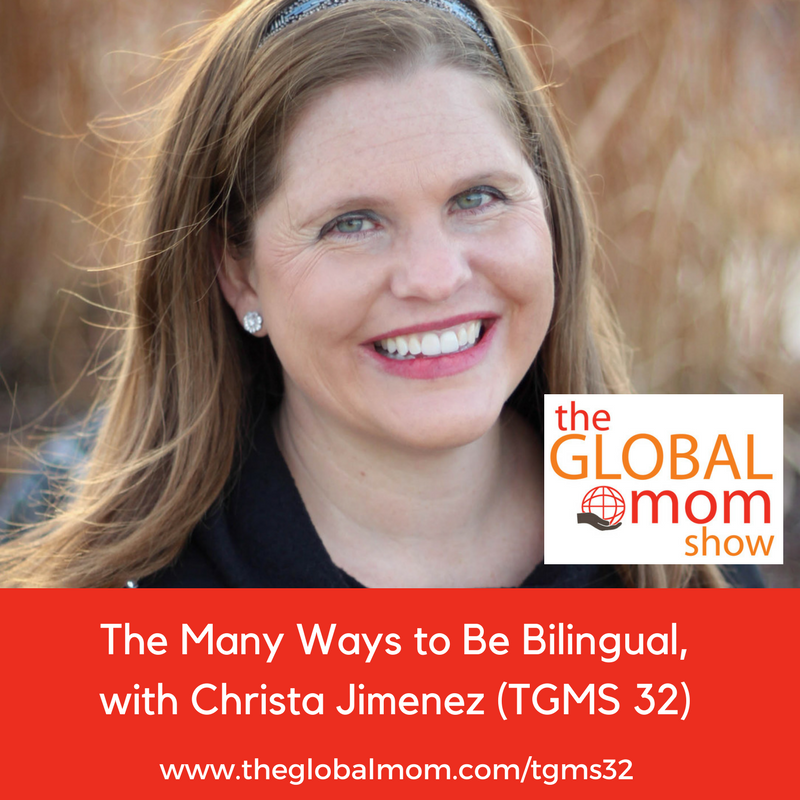 The Many Ways to Be Bilingual, with Christa Jimenez (TGMS 32)
Today on the show, I talk with Christa Jimenez about the commitment she's made to raise her children to be bilingual. She is living in the US, but she is doing a lot of things to keep her two girls connected with their heritage, since her husband is from Costa Rica. Christa is the founder of the blog Pura Vida Moms. She's a former Spanish teacher, and she's also the host of an online vlog called BilingualWe. She and I talk about some of the common methods of teaching children another language and how even learning a few phrases can transform a child's brain.
Links mentioned on the show:
Three methods of language learning:
Minority Language at Home
One-parent, One-language
Situational, contextual
Great quotes from the show: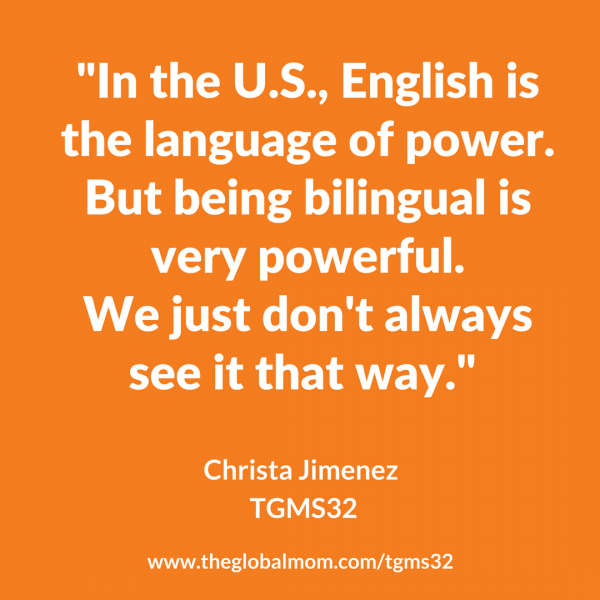 "Mothering is its own language."

"Bilingualism is a spectrum. It can look like different things."

"As soon as kids start hearing a second language…their brain is re-wired in a different way."

"As far as bilingualism…nothing is too little."
I hope you gleaned some ideas from this that will inspire you to at least attempt to get some second language exposure in the life of your child. If you want to listen to another episode about language learning and raising bilingual kids, check out episode 26, Bringing Up a Bilingual Child with Rita Rosenback.
Find Christa:
Website | Facebook | Instagram | Twitter |BilingualWe
Find Mary Grace:
Facebook | Instagram | Twitter
We would love to hear from you, so please leave a comment below, or find us on social media.
FEATURED RESOURCE: This is for you moms who may be living away from your home country or who have lived overseas in the past and are seeking ways to build community and gain knowledge about some of the issues affecting families who are expats, missionaries, diplomats, service workers and so on. The resource is the Families in Global Transition Conference, which is happening this week in the Netherlands. You can go on the website and follow them on Twitter. Follow the hashtag #FIGT17NL to hear about everything that is going on at the conference this week. You can also look up all the presenters and speakers and get an idea of some of the issues they are talking about. The theme is Building on the Basics: Creating Your Tribe on the Move, and the keynote speaker is Naomi Hattaway, who runs the I am a Triangle platform, and she is going to be on the show in a couple of weeks.
SPONSOR: The Global Mom Show is supported by fans and listeners who want to keep the conversation going. If you would like to support the show, one of the easiest ways is by doing your regular shopping on Amazon using The Global Mom Show's link. Just go to www.theglobalmom.com/amazon whenever you shop, and you won't be charged anything extra, but the show will get a tiny commission for every purchase. If you want to find out more ways to support the show, go here and you'll find a variety of simple ways you can support they show—without it costing you anything.
SPECIAL THIS WEEK: Have you seen Tea Collection's cute, fun, well-made, globally-inspired clothes? We have a few of these items in my boys' closet, and they always wear well and look great. They are offering a special sale from March 21-March 25th!  Use code KOALALOVE receive 15% off any 3 items, 20% off any 4 items, or 25% off any 5 or more items when purchased together. Offer available online only and valid through 3/26/17 at 11:59 PM PT.  Purchase here: Tea Collection

Fine print: Excludes all 3rd party (non-Tea Collection) items, Everyday Playsets, and Global Shop items. Cannot be combined with other promotions. No adjustments on previous purchases. Not redeemable for cash. Limited to stock on hand. Discount taken will be pre-tax and before shipping. Discount applied at time of purchase will be taken off each item returned. Cannot be used towards the purchase of gift cards.
Would you like to hear more from me in your inbox? If you sign up to get regular emails from me, I'll send you my guide: 10 Ways To Make Your Home More Global–No Matter Where You Live.  Just text GLOBALMOM to 444999. Or sign up here. 
Thanks for listening today, Have a great week, and remember, you can live a global life wherever you are, and teach your kids to do the same.
Yes! Send Me the Guide:
Podcast: Play in new window | Download | Embed